Hospital Recycling
Made Easy The 6,000 hospitals across the United States, with their myriad of emergency, intensive care, and operating rooms, generate over 1% of the country's total solid waste volume. this includes 93,600,000 pounds of recyclable plastic—enough plastic to fill 35,000 tractor trailers every year. If placed end to end, they would stretch from Boston to Washington, DC!

Conigliaro Industries provides Total Recycling Services to hospitals. We recycle all types of plastic, paper, metal, and glass including mixed plastics produced in patient and operating rooms.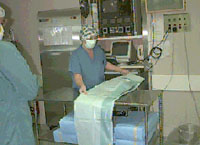 Our staff is dedicated to providing reliable hauling and handling services, while remaining sensitive to recycling legislation as well as each customer's economic and environmental goals.
We believe that there is no one solution to solid waste management. Instead, our staff blends a careful mix of source reduction, reuse, and recycling. Our Total Approach allows customers to deal with one recycling company, rather than several, reducing administrative costs and decreasing dependency on rubbish haulers.
At Conigliaro Industries, we strive to be the most innovative recycler in New England with a corporate goal of zero-customer waste. Our dedicated team uses years of experience to create programs that will endure in the future.
Plastics

Rigid Plastic Containers #1 - #7
(soda bottles, detergent bottles)
Polystyrene #6 Foam Disposables
(foam cups, plates, and salad containers)
Expanded Polystyrene #6 Foam
(foam endcaps, packaging "peanuts")
Polyurethane Foam
(egg crate foam mattresses)

Mixed Sterile Operating Room Plastics

Instrument Trays
Blister Packaging
Tyvek Suits
Saline Bottles
Sterile Blue Wrap
IV Bags
Tubing

Mixed Cleaned Patient Care Plastics

Basins
Urinals
Bed Pans
Pitchers

Difficult Materials

Mattresses and Boxsprings
Plastic and Metal Drums
Pallets and Wood Scrap
Tires and Batteries
Fluorescent Bulbs and Ballasts

Paper

Computer Printout and White Ledger
Colored and NCR Office Paper
Corrugated Cardboard
Newsprint and Magazines
Confidential Medical Records

Glass

Clear, Brown, and Green Bottles
Plate Glass

Metal

Steel and Aluminum
Scrap Metal, Wheelchairs, Beds, Cabinets