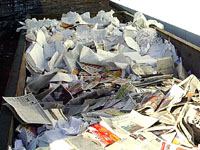 Recycling for
Office Environments
Conigliaro Industries provides Total Recycling Services to office environments. Currently serving over 50 office environments, we are uniquely qualified to perform such work.



Conigliaro Industries' "One-Stop-Shopping-Approach" allows you to recycle all of your materials with one recycling company saving time, labor, and money. We become your recycling department handling program setup, containers and equipment, hauling, processing, and selling your commodities to end-market.

Our value-added features include free employee training, recycling newsletters, and a state-of-the-art material tracking system. Conigliaro Industries also provides office and storage room cleanout services during office moves or annual spring cleaning.

You can be guaranteed that your materials will be collected and handled in a responsible and environmentally beneficial manner. We'll put you in compliance with solid waste recycling rules and regulations and help you meet your environmental goals. Best of all, we normally achieve a 25-50% savings versus rubbish!
We recycle all types of materials including:
Paper

Computer, White, and Mixed Office Paper
Corrugated Cardboard
Newsprint and Magazines
Confidential Records

Difficult Materials

Computers and Electronics
Toner Cartridges
Batteries, Fluorescent Bulbs, and Ballasts
Cathode Ray Tubes

Commingled Containers

Commingled Steel, Aluminum, Glass, and Plastic
Drink and Food Containers

Metal

Old or Obsolete Office Furniture