Product Stewardship Services
Are you struggling to develop a Product Stewardship plan for your company?

We have over 10 years experience in all aspects of Product Stewardship including: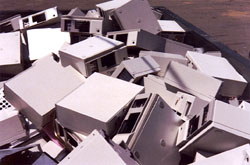 Computer chassis dismantled and ready for the baler and export.

Product Design for Recycling
Packaging Design and Reduction
Product Take-Back
Product Mail-Back
Product Tracking
Product Dismantling or Destruction
Total Recycling
More and more state governments are enacting strict Product Stewardship Guidelines. Manufacturers across New England are achieving and seeking to maintain ISO 14000 Status. Click here for more information on the Massachusetts Beyond 2000 Solid Waste Master Plan.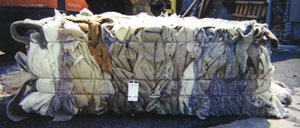 Collected and baled waste carpet ready for shipment back to manufacturer.

This puts an added burden on environmental, health, and safety professionals. You and your firm are now expected to steward your products throughout their life cycle, from "Cradle to Grave".
Conigliaro Industries handles over 150 materials, including computers, electronics, medical devices, toys, and consumer goods. If you're looking for a Total Product Stewardship Solution, call us!
In the News: